As of August 14, 2017 we are now requiring video pitches to be part of new published projects.
The reason for this, like other sites such as Kickstarter, IndieGoGo, Patreon, etc, is to ensure that creators put some effort into sharing their ideas to get others interested and excited to participate. After all, you are most-likely asking people to join your cause, so help make that cause as compelling as possible.
Below are 4 tips that will help you make a simple and effective pitch video. I'll use the pitch video I made for Thistle One as an example.
KEEP IT SIMPLE
I recorded and edited the above pitch video in 2 hours from script to final export. I hope this post will help give you an idea of how to create your pitch video and how not to overthink it.
Oh, and adding any-old-video doesn't count as we check every new published project daily to ensure it's legit.
WHAT TO SAY
Write a simple script. 1 to 1.5 minutes is long enough to get people excited about what you're doing. One page of double spaced text will translate to about 1 to 1.5 minutes of recorded material.
You want to tell people why you are creating your project, the inspiration behind it, what you're looking for from team members and, if you can, some artwork to give them a sneak peek of the world you are creating.
WHAT TO SHOW
A lot of people don't want to show or share too much for fear that their ideas may be stolen or copied. That's a fair concern, and, if you are in this camp, you can still tease people enough to get them excited.
B roll material are the bits of extra stuff you show in your video; e.g. reference, concept art, model turntables, animation tests, etc. If you are just starting and only have an idea, you might consider using concept art that has served as an inspiration for your idea (be sure to credit those artists in the lower thirds of the video during those sections).
Having one to two good concept art pieces do go a long way and are worth the investment it may take to have some done. Artella's a great place to find concept artists to create a piece or two for you.
RECORDING, AUDIO AND MUSIC
If you don't like being in front of a camera, audio voice overs work fine so long as you have some visuals to show during the pitch. See "what to show" above for ideas on how to create B roll material for your pitch video.
You don't have to get too fancy with your recordings. I used my logitech HD webcam and a headset mic to record my entire pitch video. I recorded it using Camtasia and also edited it there, too. Camtasia is definitely something worth owning, but they do offer a free 30-day trial if you're on a tight budget.
When recording be somewhere that you feel comfortable talking. Ideally this is in private so you can feel at ease talking at your normal tone and level. Don't worry about filming at a beautiful location. It's better to get your pitch video up so you can focus on assembling your team than it is to spend weeks on a great pitch video. Essentially don't make your pitch video become a project. It should be something you can create ideally in one-day.
For music I tend to use Audio Jungle. They have a ton of great music. I bought the piece in my pitch video for $8 U.S. I'm sure there are plenty of free sites for good audio, but I find Audio Jungle has some great pieces that don't break the bank.
A final word on music. If you do choose to use music it should be low enough so that it does not compete with your audio. You want to make sure people can easily and clearly hear what you are saying. Music is secondary and should be felt more than heard so be sure to keep it low.
WHERE TO PUT IT
Vimeo is always my #1 choice for where to put a video online. I like the quality and that they don't put ads in front of it. You can create a free account on Vimeo and upload your work. Then take the URL of your video, go to your Guided Setup, paste the URL into your Pitch Video area, click submit, then Done and you're all set!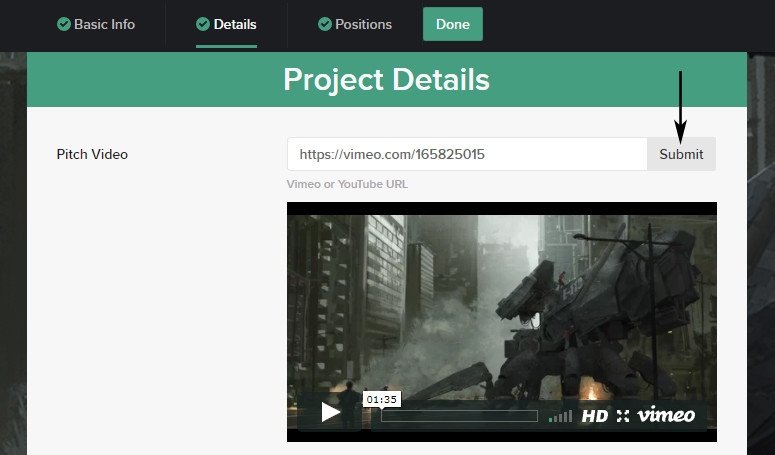 PITCH VIDEO EXAMPLES
Below are some great examples of pitch videos people have created for their projects. Some are pretty ellaborate, again, we encourage you to keep things simple so you can get back to bringing your project to life!
BONUS TIP: TEXT FORMATTING ON YOUR OVERVIEW
Check out the projects above as well as Thistle One to see how to format the text area of your Overview page. Using header text for the different areas is helpful and writing the material for this section should be kept brief and simple.
Suggested topics include: The Concept, The World, The Characters, The Budget (paid, volunteer, crowdfunded, honorarium) and Your Goal (festivals, shop around to be bought, passion project, etc). 
Good luck creating your pitch video and overview pages and we're excited to have you share your visions with others here on Artella.
Related post: See #4 in this blog post for additional pitch video tips.