It was four years ago, when I found out that I was more interested in developing a career in production than in growing as an animation artist. I currently work in Germany as a 2D animator on the TV Series, "The amazing world of Gumball" but I look for interesting projects where I can develop my skills in the field of production.
Before joining the Artella project, DUEL as Producer Manager I was one of those few fortunate to personally know the director Tim Rudder and art director Tobi Trebeljahr. From the 46 members of the crew only a 30 percent knew each other beforehand.
The design and the animatic were in progress when I came on board. I couldn't imagine in that moment how big the challenge of bringing DUEL to the screen would be.
I have always thought that a good production manager is the one who can handle oneself no matter which kind of production they are working on. It is always a positive experience to work with a manager that is willing to learn. From getting used to a new platform like Artella to understand the different render passes, each new project is a source of experience that you will bring to the next production.
I admire those producers who have creative experience. Those who know how much effort and time the artists invest in a task because they were previously in that position. I find it easier to plan and schedule with a base of self-experience and communication with artists.
It may look like a basic competence, but a good production manager should always have good communication skills. Coordinators, assistants and managers not only will support executive producers and directors, but also will take care of the daily communication with the artists. And of course there are briefings, meetings, reports…
DUEL, as I said, was a great challenge. Managing a completely online production is not easy and less so, when the team doesn't share time zones. Tracking the work of 46 people in different departments and follow the status of each task is a hard work.
Here are five tips for working in a virtual production that we have found essential.
Tracking – Who, when, how… I developed spreadsheets for the different departments. That was our main tracking system and also the way of having a general overview of the project. We gave the artists the right to change the status on their tasks and we received notifications every time a change was done.
Chat – A mailing communication with 46 people goes extremely confusing after a month. We used Slack with different Chat rooms for each department.
Video Calls – At least once a week we talked face-to-face. We could have 2 or 3 per week online meetings. It will help not only with going fast through the weekly tasks and issues but will also increase the feeling of team.
Artella´s feed – We insist using it as much as possible, seeing how the work progress is an inspiration for all the artists. And the review tools are a plus.  They help to have a more accurate view of the style and the look of the short.
Have a deadline – A collaborative project without a fixed deadline can be chaotic, the time of work will get extended and it will be difficult to keep the interest of the artists. Is important that the production team and the director work together in being a positive influence for the rest of team.
Working from home without a physical studio and being a collaborative project increases the level of complexity. On DUEL, most of the artists who joined the team worked with us on weekends or after work hours. I really have to thank the commitment and the effort of all the crew.
For those who want to get started in this line of work, from my experience, it is important to be trustworthy and analytic, to have empathy and be proactive. Be the person that the team wants to work with and in which the director or main producer can trust and delegate tasks.
When I started thinking of working in production, a good friend and mentor told me about the visibility of our work, how different it was from the rest of the crew on a project. In a creative position your skills and your artwork will be seen on screen. But for a producer, there is only the satisfaction of a good work, where everything goes on time and the work goes smooth and with the least problems possible.
It is very gratifying to see the production you are involved in finished and released with success. But there is something special when you hear from a member of your team that they are willing to work with you again.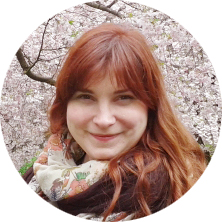 By: Ana Obau
Ana Obau graduated in Fine Arts in 2006. She is working as a Spanish 2D Animator and Production Manager with experience in advertising and TV Series.
Be sure to check out the finished production of DUEL here.