Boutique23 creates episodic content through Artella and shares the ownership with the artists
Interview with: Boutique23
Tell us a bit about Boutique23.
When boutique23 opened in 2012, we were the first online boutique for animation-ready original characters. Our dream was to make access to quality 3D animation rigs much more affordable for animators, so that having nice characters was no longer a barrier to creating their stories.
Today our dream remains the same and we want to contribute to the professional development of the 3D animation community with this vision: We believe that resources should be available to professionals and students alike to encourage training, professional growth and content creation.
As mentioned, one of boutique23's mission points is to encourage productions and creations so that animators have the opportunity to grow and learn in a collaborative environment. Where better to find a collaborative environment than Artella? The Artella vision goes hand-in-hand with our dream and we think it is the best place for creators to meet and create awesome things together.
Following this premise we would love to invite creators to collaborate with us in the creation of this series, contribute with their ideas to the entire story creation process.
What prompted you to want to create episodic shorts?
TOO and TREE is an idea that appeared when we first opened boutique23. We wanted to come up with a Series of short quick and feasible to produce episodes, that was fun to watch and that could fit many audiences. If you think about it, it was almost designed so that it could be produced on the internet by many different people. We just came up with the ingredients, and we think they are good enough to come up with great, fun content.
We know there are many talented animators and potential creative directors out there. We thought it would be nice to give them an environment (Artella) and the characters (B23) where they could create within a common purpose, instead of creating just an animation exercise or an isolated piece of content.
When Artella came out we saw a great opportunity to put this into practise. The Contributors can get organized and create separate episodes that together create a bigger piece of content, so we can all be part of something bigger, and hopefully be proud and happy about it all.
What are your plans with the shorts and where would you like to see this endeavor go?
Our immediate goal is to start creating the first 4 to 5 episodes in this way, and trying to learn from the creative environment created and learn how to become more productive with time. We hope to work with very creative and proactive artists who want to make this project also theirs.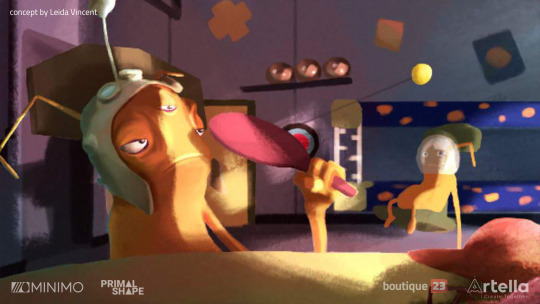 We also contemplate the option where other professional studios work on the episodes. Right now we are in the middle of one episode where two studios, MINIMO VFX and Primal Shape, are participating with B23, and it is looking great.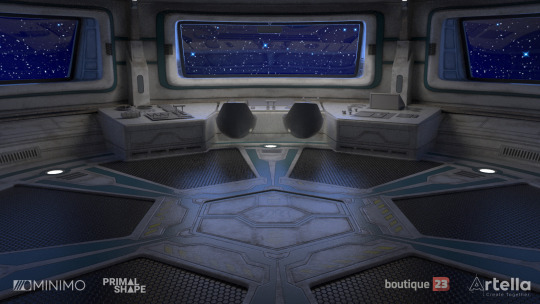 As we say in Spain: "Dreaming is free", and we like dreaming quite a lot. This dream goes in the direction of creating nice and fun episodes that people can watch on the internet and try to get as many views as possible, so that TOO and TREE becomes a recognizable brand. If we achieve a reasonable number of views it would be great to study possibilities of co-production and distribution with potential partners in the future.
You guys are stepping into a world that excites us very much which is sharing of the actual intellectual property with artists. Tell us what prompted you to take this bold step forward and what you hope to achieve with it?
These projects have not been funded yet, so we do not have the economic power to actually produce episodes in a traditional way. Since the artists are contributing with their talent, their time and their expertise we thought it would be more than fair to share with them the ownership of the episodes where they participate. This way artists not only feel the project is theirs due to their artistic contribution, but also it is actually theirs in the proportion of their contribution. It's like if the artist becomes a co-producer with us. This way if one or more episodes makes any profit in the future they will benefit from it as well.
How can people get involved?
It is very simple! You just need some things in order to participate:
Become an Artella member – Free.
Read our Artella Overview page or dedicated webpage so you are clear on what is expected.
Make sure your Artella profile contains your updated reel so that we can study if your profile fits the current needs of the project.
Apply to the project and we'll send you the agreement with the Terms and Conditions for Contributors.
Once you are in, the only thing you need is to commit to work, be proactive, be creative and of course have a lot of fun along the way.