CATEGORY: SHORT ANIMATED FILM
By Michael Cawood 
Michael Cawood is the creator behind the 2012 award winning animated short film, Devils Angels & Dating which he made in a fully distributed fashion with over 100 artists contributing all over the world. It's a miracle that he was able to complete this level of project online and we thought it would be great to have him share some of his tips that he learned along the way. We hope you enjoy.
"You come to the conclusion that your working life doesn't give you everything that you want to do, to some degree, you're going to have to do pet projects on the side in order to balance the things you do during your day job."      – Michael Cawood
1. Mindset – It's really important to weigh why you're making [your project]. Think about how much work it's going to be and what sacrifices you'll have to make. It's easy to look at Devils, with a credits list over a hundred names, and assume that you can start something and you'd only have to do a small percentage of the total workload. But realistically the team leader has to do most of the work, and far more besides, that no-one is even aware of.
2. Your Idea – Choose an idea that's unique, semi-grounded and timeless. It will have to stand out in a crowded market possibly years after you conceived it, but keep it grounded enough for people to relate to it.
3.  Planning – Plan well, and make that plan clear to the team. But be prepared to adapt. But don't plan for ever… starting is important. You can't be afraid to start. Just make sure you have enough planning to convince others you know what you're doing, then adapt and polish the plan from there.
4. Communication – This is key to every team member, especially when you're operating a remote project. If a team member lacks the language skills, can't write responses or even read your notes…. it's going to be a struggle.
5. Partnership – Find out what your team members want to get out of their involvement in the project, then make sure they are getting it. If people realize they aren't getting what they want and they're paid they won't last long. But if they realize they're not getting what they want and they're volunteers, they'll drop the project so fast, you often won't even hear about it until you've wasted a lot of time chasing them. So make sure both sides are meeting their goals, or don't agree to the partnership. You'll often want to attract top talent with big name projects under their belts, but if they don't have important goals they want to reach with your project you won't hang onto them for long. Better to work with people that have clear goals your project can help them with.
6. Paid vs Volunteer teams – Paying for some difficult areas of the project can save you a lot of time and lost momentum. Weigh waiting for the task from a volunteer against how long it would take you to earn that money in your day job and pay someone to get it done in a timely manner. The only snag is you don't want to lose team members because they're not getting paid and they find out someone else is. But imagine waiting a year for an asset to get made and how many team members you could lose in that time. Consider paying for the important areas.
7. Show Often – Push all members of the team to post updates regularly and have a place that's easy to access by the entire team where those updates can be seen in one feed. This is critical for giving the team confidence that they're not working in a void, that the team is active. To put it another way… there are other people working to make you look good. Without this, team members lose faith very easily and become less active, leading to other team members becoming less active… until the project dies. Post images and videos regularly. Text is fine, but nothing gets people engaged like visuals and it's a good way to attract new talent too. People just don't have time to read these days… at least not until they've engaged by other means.
8. Three Strikes – Give team members the benefit of the doubt when they have to slow down for life issues. But have a limit, and if it happens several times consider not getting involved again. Your time is valuable too, and including time wasters in your project costs you in the long run.
9. Video Meetings – Try to meet your team/director over video chat or in person early in the process. It's easier to let someone you've never met down. But it's more personal once you've had a face to face conversation. People feel accountable. It's one way to reduce the "us and them" factor.
10. On Giving Notes – Giving notes via numbered lists can be the best way to keep things clear when you don't always speak face-to-face. But keep the list short and prioritized. I found, on average, a list of ten notes is too much and the next update would frequently come back with some of the notes addressed but not the most important ones. About five notes became a good average, enough to be getting on with but not enough to skip anything important.
11. Full-time – Running projects like this is full-time. Even if you have to slow down for a period for important life matters, you have to keep the project moving forward and maintain the illusion of being involved. So make sure you can check in from your phone.
12. Stepping Back – Give the project some time after it's completed to peculate… to brew. It's tempting to get it out into the world immediately. But if you took years to make it. A few week delay in releasing it could be really valuable. It gives you a bit of space to step back and re-evaluate it with some perspective. A chance to make that last minute tweak that really makes it work. A chance to change things that you might otherwise have to live with for years. Especially if YouTube is your platform of choice… you get big viewing numbers there but you can't change the video once it's online.
---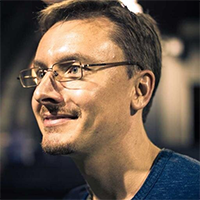 Michael Cawood, the founder of HEROmation, has been creating animated films since 1994. He's a multi-award winning Animation Director having worked in Film, TV, Commercials, Games, Animated Series and Web content. His credits include: Dawn of the Planet of the Apes, Happy Feet, Night at the Museum 3, Furious 7, Skylanders Giants, Red vs Blue and Starfox Adventures.

Michael has a broad skillset including storyboarding, previs, layout, pipeline development, rigging, editing, design and filmmaking. He has a unique strength in directing remote teams through virtual studios, to create high quality visuals.
 Also learn about his experience working on The OceanMaker short film.